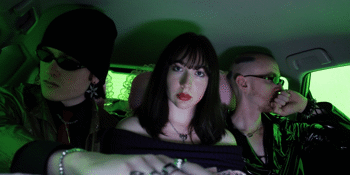 WavyLand presents
Elita Australia Tour - Perth
With Special Guests
Jack Rabbit Slim's (Northbridge, WA)
Friday, 12 January 2024 8:00 PM
WavyLand presents Elita Australia Tour 2024

Growing up in Cupids, Newfoundland, Canada, a town of less than 800 people, Elita spent most of her childhood in isolation. With encouragement from her parents, she developed artistic skills in photography, drawing, dancing, singing and music. She changed high schools frequently as a teenager. Feeling removed from friends, she found comfort in social media, where she began gaining a following on instagram in 2015, and began modelling. In 2017, Eilta launched her own business, designing zines and a few years later, a weapons jewelry line. That same year, she met her boyfriend Tim. Although Elita hadnt engaged in anything musically since she was a teenager, Tim recognised her musical potential and encouraged her to start singing again. The couple recorded a cover of 'After Hours' by the Velvet Underground.

With a growing interest in the cinematic arts, Elita focused on writing a movie script with Tim (to no success). However, this attempt at collaboration led to them making their first single, 'I Hate Everyone But You' (2018). They had no intention of making the song public, but after recording a test demo, they decide to release it. Tim concentrated on writing more songs with his bandmates, and sending these instrumentals to Elita who would write lyrics and perform vocals. This collaboration led to the eventual recording and release of Elita's debut EP 'Sick Girl' (2019), which was followed by the 'Blood Sucker' (2020) and 'Anxiety Angel' (2021) EPs. The projects combined have over 30M streams.